When choosing the right business phone service for your small business, don't solely focus on features – phenomenal customer assistance and support are equally as essential. Selecting a vendor based off of their pricing alone is not enough; you should also consider if they will take the time to understand your needs or respect your company's value. Don't settle for simply being another number in someone's spreadsheet – choose one who will go above and beyond in order to provide you with exceptional service!
Dependable. Local. Support.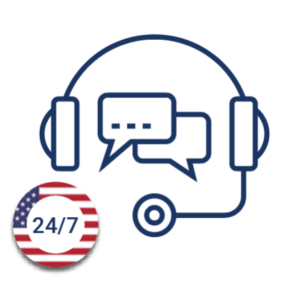 If you're on the hunt for a dependable, local business phone service provider, look no further than Carolina Digital Phone. What makes them stand out from other vendors is their commitment to being more than just another supplier – they want to be your partner in reaching success! With headquarters based in North Carolina, they comprehend small businesses' needs and promise extraordinary customer support as well as superb services.
When your phone system provider has their tech support based elsewhere, there is always going to be anxiety and confusion regarding accountability. Think about it, if you are dissatisfied with the service you receive, then who is going to take ownership of that and make it right? It will be as if you are dealing with two separate companies. The telephone vendor on one side, and the outsourced tech support on the other. 
When you choose a VoIP vendor that offers local tech support, then you never have to deal with this — because there is only ONE source. You are never caught in the middle and forced to go back and forth over and over again. 
All the Features You Need
Carolina Digital Phone provides an expansive suite of features so your business remains efficient and connected. From virtual receptionist services to voicemail transcription, this service provider has whatever you need for smooth operations. Furthermore, with a selection of phone plans at multiple price points – there is something that suits all budgets!
By choosing Carolina Digital Phone, you can be sure that the highest quality customer service is always within reach. Our team based in Greensboro, North Carolina gives 24/7 help to any and all customers who require it – no matter what time of day or night! With us on your side, rest assured knowing assistance is only a phone call away.
The Value of Customer Service
Take a moment and consider how essential outstanding customer service is to you. An alarming 96% of American businesses are unsuccessful within 10 years, with inadequate customer support being one of the biggest contributing factors; customers tend to become discontented when minor issues linger unresolved. As a business, you should expect the same caliber of exceptional service from your phone provider as you do for your customers. After all, if your phones are not functioning up to par, dissatisfied clients will reflect poorly on the success of your company.
Carolina Digital Phone sets itself apart as a business phone service provider with its fantastic customer service and additional benefits. From free installation and setup of all plans to one-on-one guidance during the initial setup, they make sure you get off on the right foot. As if that wasn't enough, their online resources such as knowledge bases, video tutorials, and FAQs provide an easy way for customers to learn about or troubleshoot any issues without having to wait for assistance!
An Expert Authority
Carolina Digital Phone is proud to be a Yealink Premier Channel Partner; our customers receive an extended warranty on IP phones, and our support engineers have been highly-trained in the use of Yealink products. Yealink is a global-leading provider of Unified Communication & Collaboration Solutions specialized in video conferencing, voice communications, and collaboration, dedicated to helping every person and organization embrace the power of "Easy Collaboration, High Productivity".
One of the key factors to consider when choosing a business phone service provider is the quality of the service. With Carolina Digital Phone, you can rest assured that you'll be getting reliable and high-quality phone service. They use state-of-the-art technology to ensure that your calls are clear and consistent, and they have multiple backup systems in place to ensure that your phone service is always up and running.
We Understand Small Business
Overall, if you're a small business owner in Virginia, North Carolina, or South Carolina looking for a business phone service provider that will be more than just a provider – a partner – Carolina Digital Phone is worth considering. With their wide range of features, excellent customer service, and top-quality phone service, they have everything you need to keep your business connected and productive. Call Carolina Digital Phone today at (336) 544-4000 to learn more.phone